Headphones are one of the most useful accessories for the current generation. People are always curious to find the feature-rich collections in the market for their computers, smartphones, gaming systems, and TVs as well. A few years ago, manufacturers used to design wired headphones, but they used to offer limited flexibility. With the advancements in technologies, most of the big brands have now launched wireless headphones. These new generation headphones give more freedom to enjoy music while moving around. 
Do Wireless Headphones Have to be Bluetooth? There exist other technologies than Bluetooth for wireless headphones like Radio Frequency and Infrared. Radio Frequency headphones use radio waves and are popular to use with a TV. Infrared technology is short-ranged which requires line of sight.
The market is loaded with several designs of wireless headphones that are inspired by different technologies. However, many people have a common question in their minds about whether they should invest in Bluetooth based wireless headphones or not. Well, there is no doubt to say that Bluetooth headphones offer a wide range of features and functionalities. 
Although a few years ago, Bluetooth headphones used to suffer so many drops out issues and they were expensive as well. But with the changing world of technologies, these headphones have now improved a lot. It is now easier to pair them with your new age gadgets by just tapping on the NFC tag on screen. Moreover, the coverage distance is also improved by a considerable level. You can ensure better stability and reliability using the Bluetooth version of wireless headphones. They are a practical and trustworthy solution for most music lovers. 
Other than this, the price range of Bluetooth headphones has also fallen down these days. You can find them in an affordable range without even compromising for quality. The safety and security features for Bluetooth technology are also improved to a great extent. They can ensure you a more reliable service with added convenience. Furthermore, the wireless approach makes headphones a suitable choice for gym, office and outdoor needs as well. 
The latest wireless Bluetooth headphones are designed with noise-cancelling features; one of the best examples in the market is Bose QuietComfort 35. It allows you to plugin all day long without worrying about external noise and crowds.
Bluetooth headphones consume lesser battery and make them serve longer with a single charge. In simple terms, we can say that when you are in need of some convenient, smart and powerful products, Bluetooth headphones can serve the purpose. Buyers should look for a decent pair of Bluetooth headphones in the market and enjoy reliable services in the long run. 
Are there other options for wireless headphones?
Many of you might have a common question in your mind that is it possible to have wireless headphones without Bluetooth. If yes, then how do they connect to other gadgets. Well, the truth is that Bluetooth technology is common among wireless versions of headphones, but they are not restricted to this option only. 
Another famous choice in the market is dedicated to wireless headphones. They are preferably used with the TV sets and do not require Bluetooth for making a connection. Same as wireless Bluetooth earbuds that are designed to work with few compatible devices only, the dedicated wireless headsets also work with selected gadgets. 
Now, the next question is how do they connect? Typically, the dedicated wireless headphones are designed to work with a base station. It plugs into the TV via a 3.5mm analog jack and ensures data broadcasting through radio frequency transmission instead of Bluetooth connection. When there is no obstruction in the medium, the dedicated wireless headphones can also work efficiently using RF transmission. 
Benefits of Wireless Bluetooth Headphones
Those who are new to the concept of wireless Bluetooth headphones, they might be curious to know about the incredible features that they can enjoy. Well, there are so many amazing things to know about these latest headphone units; few of them are listed below to ease your buying decisions: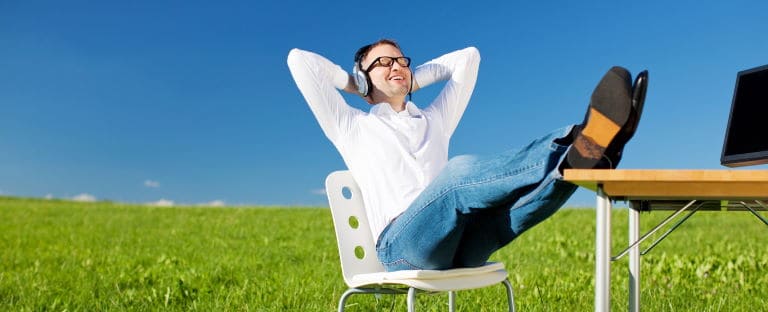 The biggest benefit of wireless Bluetooth headphones is that users need not to mess with wires. These headphones are capable enough to offer unparalleled freedom so that you can listen to music or talk while walking around. These headphones can also make your gym hours or office routines more flexible. Usually, the wires increase the wear and tear for the headphones; but the wireless design ensures long life service.
A few years ago, Bluetooth headphones were not that efficient as they had some troubles in pairing. The audio quality was not so reliable and they connections used to drop out anytime in-between. But the technology is much improved these days. You can easily pair the latest wireless Bluetooth headphones to ensure uninterrupted service. All that you need to do is tap on the NFC tag or the Bluetooth option on your device. The latest headphones ensure wider coverage distance with added convenience. 
Another amazing feature of Bluetooth headphones is longer battery life so that you can stay connected to your favorite music for several hours. Some of the best versions of Bluetooth headphones promise an impressive battery life of around 20 to 24 hours with a single charge. Many new age Bluetooth headphones even allow wired connections when their battery dies. 
The sound quality of Bluetooth headphones is greatly improved to deliver the best experience to music lovers. They can balance all the lows and highs in the beats while delivering satisfactory performance to the users. The advanced techniques for broadcasting make them a suitable choice for joyful sound delivery. 
This feature is essential to get rid of unwanted ambient noise in the audio waves. These wireless Bluetooth headphones can ensure you quality sound delivery even in the crowded areas. There is no need to raise the volume to higher levels while listening to music in noisy areas. These headphones are more suitable for call centers as well where employees need to communicate to the customers even while having loads of noise in the background. 
Buying the best wireless Bluetooth headphones
In case if you are looking for the best wireless Bluetooth headphones but are confused among several options in the market, here we have listed a few best ones to ease your purchase:
Sony WH-1000XM3
Here is the top-rated solution for wireless Bluetooth headphones. There is no doubt to say that Sony is the biggest brand in the headphone industry and this product from the same company has grabbed the attention of buyers around the world. The manufacturers have included Atmospheric Pressure Optimizer to make them superior noise-cancelling headphones. Furthermore, touchpad controls make them a more reliable choice for users. 
Pros
Designed to ensure efficient noise-cancelling abilities. 
Bluetooth powered headphones. 
30 hours of battery life. 
USB-C charging facility.
Dynamic sound performance. 
Cons
Touch control needs some improvements. 
Sennheiser Momentum Wireless 3.0:
In case if you are having a bigger budget to buy wireless Bluetooth headphones, this brand can serve you better. They promise energetic performance with amazing sound quality. You can ensure enhanced noise-cancelling abilities with these headphones. They appear a suitable choice for your busy office routines and workout hours as well.
Pros
Rhythmic and energetic presentation.
Convenient usability.
17 hours of battery life.
USB-C charging facility.
Effective noise cancellation. 
Cons
Battery life could be improved. 
Bowers & Wilkins PX7:
B & W is another amazing entertainer in the market. They are finished with attractive and innovative design. Manufacturers also ensure reliable performance with enhanced sound quality. In case if you are more in love with the street cred style and value sonic sprightliness; these headphones can serve your needs better. 
Pros
They offer lively and insightful sound. 
Comfortable and sophisticated design.
Three-tiered noise cancellation. 
30 hours of incredible battery life. 
USB-C charging facility. 
Cons
Earcup design needs some improvements.
Bose SoundSport Wireless Headphones:
Bose SoundSport Wireless Headphones are rated high for their smart design and elegant finish. They are quite comfortable to wear soft silicone rubber hooks. You can ensure a secure fit while running or during your workout at the gym. People are satisfied with their performance and prefer to use at offices, trains and even while listening to music during morning walks. 
Pros
They offer noise-cancelling features.
Strong wireless performance. 
In-line mic and controls. 
Comfortable to wear.
Satisfactory sound performance.
Cons
Only 6 hours of battery backup. 
Lindy BNX-60:
These noise-cancelling headphones are comfortable and handy with their snug fit design. The volume control buttons are added to one ear whereas on/off switch is offers active noise cancellation abilities. Blue light is also added to indicate the status of the ANC feature. It produces balanced sound performance with a decent delivery of vocals. 
Pros
Detailed and impressive sound quality.
Noise-cancelling Bluetooth headphones. 
15 hours of battery backup.
Designed with Micro USB charging abilities. 
Cons
Needs some improvement for Treble during the standard mode. 
Now you have gone through all essential details about wireless Bluetooth headphones. At the same time, the list of best headphones available in this category is mentioned. This information might have improved your knowledge about the products and now you can make a reliable purchase decision online.