For many people, the range of a wireless headphones has great importance. Before we go into detail, let's give you a short answer about the different ranges.
How far do wireless headphones work? In optimal conditions, wireless headphones with Bluetooth class 1 can reach as far as 80 meters or 262 feet while Bluetooth class can get to 10 meters or 33 feet. Radiofrequency headphones can work up to 100 meters or 328 feet.
In this post, we will go into detail about the different kinds of wireless technologies. We will cover the distance of each technologies with the pros and cons.
Different Kinds of Wireless
Wireless technology allows people to communicate without using wires or cables. With wireless technologies, you can communicate with people over very long distances. This technology includes Infrared Radiation (IR), Radio Frequency (RF) waves, and Bluetooth technology. 
Bluetooth: It is a short-range wireless or radio technology, which aims to simplify communications among devices and the internet. Bluetooth technology also works to simplify data synchronization between computers and other internet-connected devices. Today, this technology is found in millions of products such as smartphones, laptops, headsets, and portable speakers. 
Radio Frequency: It refers to electromagnetic radio waves and their rate of oscillation in the range of 3 kHz to 300 GHz. Radiofrequency also focuses on the alternating currents that carry the radio signals. In addition, it is used for transmission, communications, and broadcasting.  
Infrared: it is a short-range wireless technology used in mobile device communication. This type of wireless technology has limitations since it requires line-of-sight. Thus, it has a short transmission range and can't penetrate the walls. Infrared transceivers are quite affordable, which serve as short-range transmission or communication solutions. 
Bluetooth Headphones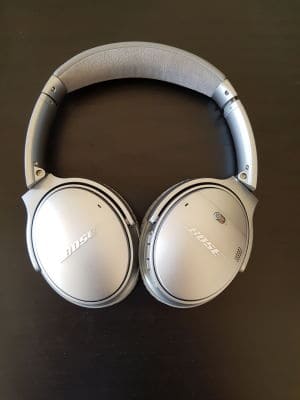 Any device with Bluetooth technology uses radio waves instead of cables or wires to connect with a cellphone or computer. A single Bluetooth device can even connect with multiple devices simultaneously. This enables the person to talk on the phone and/or listen to music without cords or wires. 
Headphones, speakers, televisions, cameras, and phones are Bluetooth-enabled consumer electronics that simplify data sharing between different devices. For example, a Bluetooth mobile phone can connect to a headset wirelessly – in order to make hands free calling much easier and/or can send photos to another device such as a computer or phone. 
Class 1 Bluetooth
Class 1 Bluetooth Headphones have 50-80 meters or 164-262 feet range. Class 1 Bluetooth with high power and high sensitivity allow ranges far in excess of the usual 100m. However, it also depends on the throughput required by the device. 
Class 2 Bluetooth
A Class 2 Bluetooth headphone has a 2.5mW power rating. These headphones have an operating range of 10-20 meters. You can connect two devices of different classes. They will work just fine. Nonetheless, they will revert to the lower class. For instance, a Class 1 headphone with a Class 2 cellphone will work up to 25-33 feet. Class 2 is the most common technology in wireless headphones.
Pros and Cons of Bluetooth Headphones
Pros
Bluetooth headphones are capable of enhancing the convenience of communication.
A Bluetooth headphone does not rely on cords and wired to get connected with a phone or a computer.   
A Bluetooth headphone can be used by a wide range of devices with built-in Bluetooth technology. There is no need for wires or adapters to pair the Bluetooth headphone with other devices. 
You can buy a Bluetooth Headphone at an affordable price. 
You can use it while driving your car – this way, you won't miss your important phone calls.
Bluetooth Headphones can detect low power signals. It consumes less battery power than other devices. 
Cons
Many High-end Bluetooth headphones are expensive. 
Bluetooth headphones have a lower timber, which makes them the poor choice for music fans.
Most models of Bluetooth headphones have mono output, which is not a good option for people with hearing problems.  
Popular Bluetooth Headphones
There are many Bluetooth Headphones available on the market. Let us tell you the best over-ear and in-ear headphones. 
Bose QuietComfort 35 II: These are excellent over-ear headphones with three levels of high-quality noise cancellation. Bose QuietComfort 35 II noise-rejecting microphone system for smooth and clear voice pick-up and sound. These headphones – at any volume – offers balanced audio performance. Not only do they offer great sound quality, solid clarity for phone calls, but they are also extremely comfortable. The special feature of this device is Bluetooth, Lithium-ion battery. 
NuForce BE Sports4: These are sleek, high-performance in-ear headphones, which are ideal for exercise and everyone finds the lightweight functionality of the device highly appealing. Among the advantages are practical design, customized ear-tips, and impressive audio. These in-ear headphones have only 15g weight in total. However, they are substantial enough to feel durable. 
Radiofrequency Headphones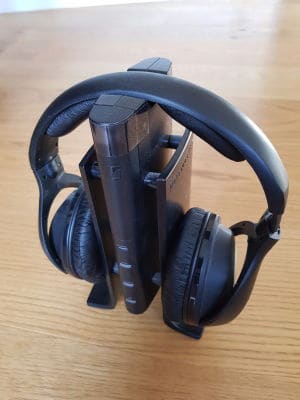 Radiofrequency headphones typically use stereo frequency modulation systems for the transmission of sound from an audio source to the headphones. Having Radio Frequency (RF) headphones is like a mini radio station where they are the only thing to pick up the audio. In addition, this makes radiofrequency waves one of the best choices for totally wireless freedom, which is likewise a great application for disco headphones. 
How far does Radio Frequency Headphones Work?
You can use radio frequency headphones in different rooms because the signals won't be blocked by objects or walls. Radiofrequency headphones have a maximum range of 100 meters.
Pros and Cons of RF Headphones
Pros
Radiofrequency headphones provide wire-free connectivity and provide good connections through ceilings and walls for up to about 300 feet.
RF headphones do not require a stable wireless connection. Instead, it requires an analog audio output in order to connect to any other audio device.
RF headphones connect to any audio device with an RCA output and/or 6.3/3.5 mm headphone socket.
RF transmitter can connect up to 100 RF headphones and receivers for simultaneous listening.
RF headphones offer up to 20-hour listening time.
Cons
You will find limited RF headphone designs. Most RF headphones come in on-ear or over-ear designs but there are very few RF earphones or earbuds.
RF headphones are defenseless to interference, which can originate from any device producing electromagnetic signals.
Popular RF Headphones
Sennheiser RS 120: They are affordable headphones that can hold a connection of up to 120 feet. These headphones can connect to the TV through RCA or AUX cable. Sennheiser RS 120 is ergonomic and light. The headphones have volume controls, which means the user can adjust the sound from the device. Sennheiser RS 120 does not have a noise-cancellation setting, however, for a cheaper price, these headphones are a great way to listen to TV or music from anywhere in your home. 
Sennheiser RS 195: These are super-premium and high-end RF headphones, which has a maximum range of 328 feet. Sennheiser RS 195 comes with many panning options and EQ settings. The headphones can be connected to a TV through RCA and AUX cables. These headphones likewise have higher dynamic ranges, so that the user can enjoy the deep and booming sound. Not only do they are ergonomic, but they also offer 20 hours of battery life.
Infrared Headphones
Infrared Headphones are based on infrared technology. You can use these headphones to listen to music or watch TV audio cordlessly. Infrared headphones use a transmitter, which connects to the audio source with audio cables – for instance, it could be a home entertainment center. In these headphones, the transmitter uses light-emitting diodes or LEDs in order to direct a beam of pulsating and invisible light towards the headphone set receiver. 
IR headphones use infrared waves for effective listening experience. It is because these headphones don't hinder the frequencies of others. As a result, you get a disturbance-free, smooth, and high-quality sound. Infrared headphones are available in both dual and single channels. With dual channels, you can listen to two signals without any interference at the same time. 

How far does Infrared Headphones work?
The pulsations of the IR headphones act as "on and off signals," which are received and interpreted by the receiver into sound waves that are audible to the ear. Infrared headphones have an effective range of 10 meters or 30 feet. However, a clear line of sight is required between the transmitter and receiver. 
Pros and Cons of Infrared Headphones
Pros
High-quality IR headphones produce a similar sound quality like wired headphones.
No radio or static interference with the IR headphones. 
IR headphones have a flexible design – allowing you to fold them for storing efficiently.
IR headphones come with multi-features – allowing you to use it with TVs, Car headrest, DVD players, car TV, and flip-down monitors or any other device with infrared functions. 
Cons
Most IR headphones have only 10 meters range.
IR headphones require a clear line of sight.
The headphones cannot transmit audio through walls.
Popular Infrared Headphones
With IF245RK headphones, you will get 40 mm drivers of neodymium in order to produce amazing audios, soundtracks, etc. Sony IF245RK headphones come with amazing features like a wide headband, self-adjusting, lightweight. The product dimensions are 23.1 x 11.4 x 35.6 cm and the incredible ergonomic design adds to the comfort levels. 
Sony IF245RK headphones come with the automatic fast-charging features. Once powered completely, these headphones will work for 25-28 hours for relishing your songs collection without hindrances. The RK headphones have radiofrequency connectivity, which is quick and easy to use simply by pressing a single button. Moreover, the wireless technology with RF features likewise comes with a long-range that helps the user to synchronize the IR headphones, which is compatible with most of the gadgets.