If you are a gamer, you have probably heard about surround sound headsets and wondered if these can help you to experience better in-game immersion or gain a competitive edge over other players.
So you might ask yourself, are surround sound gaming headsets really worth it? Surround sound gaming headsets give you a more immersive experience in games. However, many competitive gamers still use stereo headsets in competitions. Some games are created specifically for surround sound. For those games surround sound headset are definitely worth it.
Let's look at what surround sound is and whether it can benefit you in any way. 
Why do you want surround sound for gaming?
Movie fanatics will vouch for the benefits of having a surround system, but what about video gamers? Does immersion help the gaming experience? Yes, it does. A good quality headset with a virtual or true surround sound system can make you feel like you are actually inside the game. This can help you to experience a level of fun which is not possible with normal stereo headsets. 
However, the benefits don't end here. If you put on a pair of surround sound headphones, it can help you to keep track of sound or movements (enemy footsteps) from all directions.
Check out Youtuber 3kliksphilip where he demonstrates surround sound in CS:GO
What is virtual surround and true surround?
When shopping for a pair of surround sound headsets, you will encounter terms like 'virtual surround' and 'true surround'. If you don't know what that means, it can make the process of selecting more complicated. 
A true surround sound system uses real drivers (speakers) to create the effect of surround sound. These come in two varieties: 5.1 and 7.1. In the case of headsets, each side houses 5 or 7 separate drivers plus one extra driver for a low-frequency bass to create the sound effect.
Virtual surround sound systems use software to mimic the surround sound effect on stereo speakers (2 speaker configuration). Although they may not sound as good as a true surround system, the difference is negligible in the case of headsets (as opposed to a home theatre system) and these still sound vastly superior to normal stereo speakers without virtual surround sound. There are several virtual surround sound standards such as Dolby Headphone, DTS Headphone X, and Creative Media Surround 3D and all of them use proprietary technology. However, these essentially sound the same. 
Most gaming headsets that are marketed as having a surround sound actually use virtual surround sound technology. So, be careful while selecting if you want a true surround sound headset.
Are there any games that support surround sound?
Most modern games support surround sound in 5.1 channels. There are a few games that also support 7.1 channels. However, the quality of the sound will be determined by the soundcard of your computer or the software installed on your headset. 
You should not worry if your favorite game doesn't support surround sound in 7.1 channels as the difference between it and 5.1 is not noticeable enough if you are using headphones.
What is the difference between 5.1 and 7.1 surround configuration?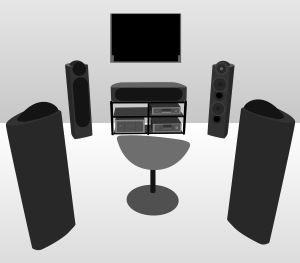 A true surround sound configuration will have the speakers physically positioned around the listener to simulate the sound coming from different directions. A 5.1 surround sound system will have the following configuration: A center channel, a front-right channel, a front-left, a rear-right channel, a rear-left channel, and a 'subwoofer' for low-frequency bass. 
A 7.1 surround sound system will have the same configuration as a 5.1 surround sound system but will also have two extra drivers: right surround and left surround.
Should you use wired or wireless headsets?
Whether you should use a wired or wireless headset will depend on your preferences and budget. Each type has a set of pros and cons. So, you need to decide on your own which will be the best choice for you. You can decide based on the following criteria: 
1. Portability – Both wireless and wired headsets are portable, but wireless headsets still have an advantage as these don't have physical wires which can tangle up or tear due to stress. Plus, many wireless headsets can be folded which makes them easier to store or carry around on your neck. 
2. Sound quality – Many people assume that wired headphones have better sound quality than wireless ones. However, that is not true in all cases. Although wired headsets may have a better sound quality, the difference is hardly noticeable if you just play games or don't listen to very high-quality music files. In fact, the sound quality is actually determined by the driver of the headset. 
So, if you choose an expensive pair of wireless headsets, it can sound better than most wired headsets due to having better sound drivers. 
3. Convenience – Wireless headphones are easier to use and keep safe as these don't have any wires that you need to manage. Plus, you are not restricted to a certain distance, which makes it great for video games who like to play games on TV rather than on their laptops or PC. However, you have to charge these frequently which can be a problem during extended music listening or gaming sessions. 
Wired headphones don't require any charge to use but you are limited to a certain distance and have to manage the cables as they may get damaged if you are not careful.
4. Compatibility – You can plug in a wired headset in the audio port (3.5mm jack) of your laptop, PC or mobile phone for listening to music or watching videos. Similarly, you can connect a wireless headset to your smartphone, laptop, or PC via Bluetooth or a wireless dongle.
5. Cost – Generally, wireless headphones are a bit costly when compared to wired headphones of the same specifications. This is due to the amount of technology cramped up in such a small space. Thus, wired headsets provide more value for money and are ideal if you are on a budget.
What you should look for in quality surround sound headset
There are several surround sound headsets in the market but only a few of them can satisfy the needs of a hardcore gamer. To choose a good quality surround sound headset, keep an eye out on the following characteristics:
1. Audio quality – The audio quality should be your first priority when selecting any kind of headset. Don't settle for budget headsets that don't offer good audio quality. You will waste your money and regret your decision later. So, even if you have to wait to save more money, you will thank yourself later.
Don't just blindly read the specifications of a product to determine the audio quality. Read user reviews and compare ratings to prevent any unexpected surprises.
2. Noise cancellation – Noise cancellation is very important as it helps to filter out background noises which can interfere with your music listening or gaming experience. If you like to play games on the go or in public places, choose a surround sound headset that offers good noise cancellation.
If you often play games at LAN parties, I would highly suggest getting a pair with noise cancellation. There is often a lot of noise and this will keep you focused.
3. Wired or wireless – This is a personal choice that will depend on your preferences. The sound quality of a wired vs wireless surround sound headset will not vary too greatly if they have the same specification and made by the same manufacturer. Read the previous section to know the pros and cons of owning a wireless vs wired headset.
4. Comfort – For gamers, it is incredibly important to own a comfortable pair of headphones. Even if your headset provides great sound quality and looks amazing, if it is not comfortable to wear, it will be a bad purchase. If you wear an uncomfortable headset during extended gaming sessions, it can physically hurt your ear and cause pain due to friction, sweat or trapped heat. 
A good quality surround sound headset can be worn for hours. It should be lightweight and have an ergonomically designed to provide the ultimate comfort.
5. Microphone – The best surround sound gaming headsets also include a good quality microphone. Gamers often need to interact with their team members to make strategic plans and it is easier to speak directly than to type. So, if your headset doesn't include a microphone, you have to buy it separately which can cost you more. 
Aside from these, you should also note the build quality of the headset. A headset with good build quality will last you for years. Cheap headsets are typically made with plastic whereas the more expensive gaming headsets will have metal or wireframe for support.
Recommended surround sound headsets
Everybody has a different budget and requirement. Keeping that in mind, we have come up with 3 different types of surround sound headsets; one virtual surround, one 5.1 surround and one 7.1 surround. These are listed below: 
1. Corsair HS60 – 7.1 Virtual Surround Sound PC Gaming Headset – The Corsair HS60 is a popular virtual surround sound headset that emulates a surround sound system with 7.1 channels. This discord certified headset has 50mm neodymium speaker drivers and comes with an optimized unidirectional microphone that offers enhanced voice quality by reducing the ambient noise.
It is comfortable to wear even for long gaming sessions and also has good build quality. You can use the headset on PC, PS4, Xbox One, Nintendo Switch, and mobile devices. 
2. ROCCAT KAVE XTD Premium 5.1 Surround Headset – The ROCCAT Kave XTD is a true surround sound headset that supports 5.1 channels due to having 3 driver units per ear cup. This versatile gaming headset has a removable microphone and features a desktop-remote to give you nice gaming experience. 
The ROCCAT Smart Link is another convenient technology that lets you receive calls from your smartphone by connecting to it via Bluetooth.
3. ASUS Strix 7.1 Gaming Headset – The ASUS Strix is a true surround sound gaming headset that supports 7.1 channels. This popular gaming headset features 10 neodymium magnets and volume control for each channel to offer you an unparalleled listening experience. 
It also supports 4 game-audio spectrum profiles: Racing, first-person shooter (FPS), Action/role-playing games (RPG). 
Final words
Even if you are not a hardcore gamer, you will definitely appreciate the change in sound quality and the level of immersion you experience buy using a surround sound headset. Unlike normal stereo headsets, virtual surround sound headsets can improve your gaming performance as well by improving your spatial awareness.
If you want to take it up a notch, you may even purchase a true surround sound gaming headset that supports 5.1 or 7.1 channels.