When you opt to choose headphones for your gaming console, you have so many choices that you can't decide which one to buy. This means that choosing the right Xbox one headset can be difficult. 
Most gamers focus on the quality of sound and do not take into consideration other important factors such as build quality, range, wired or wireless, comfort, and price. These factors should be considered when you go for any headphones. Read on! 
Does Xbox one come with a Headphone?
Xbox one is a gaming console product of Microsoft – one of the most popular tech companies in the world. Originally, the console "Xbox one" does not come with headphones. Microsoft explained recently that it includes Kinect. 
According to the original manufacturer "Microsoft," Xbox one does not include headphones or related accessories. 
However, Xbox one comes with the new Kinect sensor, which has multi-array microphones that perform the function of enabling voice inputs as well as chat as a system-level capability. 
The sensitive and multi-array microphones are also useful in terms of playing games and video conferencing over Skype. 
How to connect Headphones to Xbox one?
You can connect your headphones to Xbox in different ways. For instance, you can connect them via a 3.5mm audio jack or using the stereo headset adapter of the console. 
Remember, the Xbox one does not support Bluetooth technology, which means that you can't connect your headphones to the gaming console using Bluetooth technology. 
If your Xbox wireless controller has a 3.5mm port, you can use a standard 3.5mm jack to connect your headphones directly to the controller. 
In addition, you can connect the console stereo headset adapter to the controller. You just need to plug it into the expansion port, which is located on the bottom side of the controller. 
The next is to connect a 3.5mm audio jack to the headphone adapter. Make sure the jack is compatible – otherwise, you would face problems. 
Can you connect your Bluetooth headset to Xbox One?
As mentioned above, the Xbox one console does not support Bluetooth technology. So, a simple answer to this question is that "No," you can't connect your Bluetooth headphones to the Xbox one. 
Gaming experts say that the inclusion of Bluetooth technology in future Xbox consoles would be great since many gamers prefer using Bluetooth headsets. So, Microsoft must take into consideration the demands of users. 

Do you need a Headset with a mic to communicate with other players?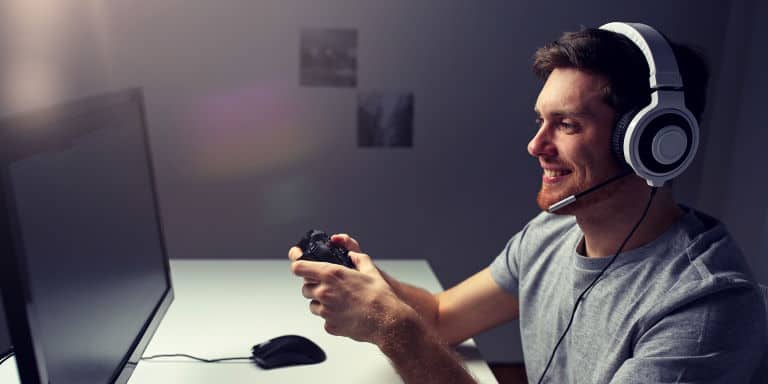 Yes, you need a microphone for communication with other players. There are some solid and easy ways of adding a mic to the headphones you are using with your Xbox one. Well, the purpose is to indulge in a great gaming experience. 
There are many high-quality microphones. So, to have a great gaming experience on your Xbox one, you need a high-end microphone. You can clip a microphone to your headphones in order to create a great gaming headset. 
Many Xbox one gamers use a splitter to attach the microphone and the headphones. Therefore, you will have a full-gaming headphone plugged into the Xbox one controller. 
More interestingly, you can take the mic off and just keep on enjoying your Xbox one headphones. It is important to know that not all Xbox one headphones have a detachable mic.
Are there any headphones that don't work with the Xbox one?
If you play games on Xbox, you know how significant the sound quality is – especially when you are playing first-person shooter games. Again, all Bluetooth headphones do not work with the Xbox one. It is because the Xbox One does not have support for Bluetooth technology. 
The Xbox one has a new controller, which is equipped with a proprietary data port replacing the chat cable connector. This makes the Xbox One Console incompatible with certain gaming headphones – such as high-end products like Triton, Turtle Beach, and Astro Gaming. 
Microsoft said that they are working with third-party headphone manufacturers to create new headphones, which will take advantage of the new technology incorporated in the Xbox One console. 
Can you just connect your headphones to the TV instead?
There are some TV models, which come with headphone jacks. This allows you to connect your headphones with a typical 3.5mm jack or audio connector to them. 
The process is simple and easy as you just need to plug your headphones in and go. It is important that you change the audio output settings – otherwise, your TV won't send the audio over the port of the headphone. 
How to Choose Xbox One Headphones?
Choosing Xbox One Headphones is not an easy task. You have to take into consideration a few factors while buying your new Xbox one headphones. Some of the most important factors are:
Comfort
First and foremost, you need headphones that are comfortable – for instance, the headband of the headphone is an important factor when you opt to choose headphones that suit your Xbox gaming. 
The weight of the headphones usually rests on your head through the headband. Therefore, make sure that it is strong and sufficiently adjustable. The headphones must not press your ears. 
While choosing headphones for your Xbox One console, you need to consider the shape, the material, and the ear cups. Also, take into account the design of the headphones – i.e. the open or closed design. 
For example, if you have small ears, then, we recommend you to choose on-ear earcups. Experts say that on-ear headphones with round earcups are the best choice for gamers. On the other hand, if you have a large head and prominent ears, we recommend you to go for over-ear headphones. 
Material
The material from which the headphones are made also plays a key role – especially when it comes to the comfort of the headphones. The earcups of the headphones are often covered with fabrics such as leather material. Most gaming headsets have fake leather material. 
Anyway, if you want to take advantage of earcups fabric, you must choose headphones with earcups the fabric of which is designed or manufactured from high-quality material. The material must be breathable. In this regard, we recommend leather upholstery because it insulated better as well as it does not wear quickly. 
In some high-end gaming headphones, the earcups are filled with memory foam, which is a much better fabric or material that not only provides comfort but also does not cause sweat around the ears. Thus, you can play games on your Xbox One for hours without any hassle. 
Weight
When we talk about choosing the best Xbox One headphones, often, we ignore the weight of the headset. Actually, it is an important factor that all gamers must take into consideration. 
So much so, the Xbox One headphones are made from a wide range of materials – i.e. from very bulky plastic headphones with striking designs to simple and minimalistic headphones with lightweight aluminum material. In general, for qualitative lightweight headphones, you feel much deeper in the pouch. 
Noise Cancelling 
As a gamer, you use headphones to communicate with your teammates and friends. In this regard, the noise-canceling feature is important, which makes your voice loud and clear without causing any disturbance. 
The noise-canceling feature would allow for reducing the unwanted ambient sound or audios. So, make sure you choose a headset that comes with active noise-controlling technology. 
There are many other factors to consider such as sound reproduction, virtual surround sound, dimensional sound, stereo, etc. However, these factors are associated with the preferences of the gamer. 
Recommended Xbox headphones
There are dozens of low-end and high-end headphone brands available on the market offering hundreds of headphone products. However, not all of them work with Xbox in terms of compatibility, connectivity, as well as comfortable experience to the gamer. 
So, in this section, we will talk about the most recommended headphones for your Xbox One console. We have tested many models on our own Xbox One console – and then made a thorough comparison. After our research and testing, we have come up with the following. 
LucidSound LS35X
LS35X is the best Xbox One headphone by LucidSound. This headphone – first of all – has adjustable earcups that have a thinker layer of coolant gel, which keeps your ears comfortable and frosty even when you play games for hours. These are one of the pleasant headphones we have used and tested. 
Before using the headphones, you will have to update the software through Windows – this is not that difficult and would take a couple of minutes. One thing that we really want to share with you is that these headphones have great wireless connectivity with the Xbox One. 
Actually, you would use the wireless signal of your console as your controller, which means that these headphones have eliminated the need for additional USB docks or dongles – thus adding a lot of comfort and convenience to the overall gaming experience. 
Astro A50 Headphones
The Astro A50 headphones are the best premium headphones for your gaming console. They work best with the Xbox One gaming console and offer full Dolby audio quality, wireless technology, charging dock with a convenient battery, as well as amazing sound and comfort. 
These are noise-canceling headphones, which provide you with great gaming experience – especially when you communicate with your teammates. This, in turn, are excellent headphones for eliminated unwanted ambient sound. 
Although the quality of the microphone is average, it has solid wireless audio, great sound, and convenient docking station – thus making them perfect headphones for you to buy and use with your Xbox One. 
Conclusion
Wrapping up, the Xbox One is one of the most popular gaming consoles in the world. It is a true competitor of PS4. Many gamers around the world want to have a comfortable experience while playing games. 
Therefore, they opt for the best Xbox One headsets. Since there are many, you need to choose the one that has all the features we have mentioned above. Good Luck!