This post may contain affiliate links which means that, if you choose to make a purchase, I may earn a small commission at no extra cost to you.
---
Sleep plays a significant role in good physical and mental health throughout your life. When you get enough sleep – i.e. at the right time, not only does it protect your physical health but also mental health. Getting enough sleep is one of the triggers of quality of life. During sleep, your body works to support adequate brain functionalities. 
Imagine you woke up in the middle of the night, you feel unmotivated and irritable to do productive things. Although some people seek medical advice or treatment to overcome their sleep problems, there are a few other things that you should take into consideration for a good night's sleep. 
According to WebMD, one of the most sophisticated and authority online source for health seekers, deep sleep can trigger a person's body to release some hormones, which promote and maintain normal brain functions. 
Sleep-related hormones such as melatonin trigger your brain and allow for healthy sleep. This hormone is also helpful in repairing cells and boosting muscle mass in people of all age groups. 
To improve the quality of your sleep, you need to target various forms of sensory stimuli. For example, you need to buy a fluffy pillow to increase your comfort level. You can also use a sleep mask, which allows you to block out sources of light. This is particularly useful for your sense of sight and good sleep. 
Also, you should install dehumidifiers that spray scents. The purpose is to relax your sense of smell. Research shows that when your body is relaxed due to the room environment, it can trigger a good night's sleep. 
You can likewise wear headphones with good noise-canceling features to isolate noises and listen to relaxing music that will soothe your neural network and boost your neurons to function properly – releasing melatonin so that you can get proper sleep. 
In today's article, we are going to tell you about 5 best in-ear monitors (IEMs) for sleeping in 2020. There are different IEM models available on the market, which are designed and manufactured exclusively for sleeping. Most often, people call such devices bed-phones or sleep-phones. Read on!
Why you should buy IEMs for sleeping? 
Well, this is an important question that needs to be answered before we jump into the main topic. First and foremost, if you are suffering from tinnitus, you need to buy IEMs. Tinnitus is a health condition that characterizes a constant buzzing or ringing sound. 
These disturbing sounds come from within the body. Research shows that such sounds have nothing to do with the external environment. Therefore, when you listen to some light relaxing music at a low volume, it will help the body break the monotony of silence – allowing you to get proper sleep.
Also, if you are living with roommates who have just arrived from his office and have the next day off, he or she won't sleep because of the off day or going to office in the evening. In this case, if there is a noisy environment in the room and you want to catch a wink, you need quality IEMs for better sleep. 
You must know that a lot of people use headphones or IEMs as earplugs. The purpose of using headphones is to block out ambient noises such as noisy room mats, snoring of the partner, and/or air flights. So much so, the level of noise reduction or complete block out depends on your personal preference. 
Some people listen to songs or music before they go to sleep. Many people say that listening to relaxing music can induce sleep at night. This is particularly useful for people who have sleep problems and/or suffering from a condition known as "insomnia." 
If you have a problem falling asleep, you need to listen to relaxing music that acts like a lullaby, which allows you going to sleep quickly. Several research studies have shown that people who listen to relaxing music for about 30 to 40 minutes can easily go to sleep. The music boosts their neurons to release melatonin – a sleep hormone that induces sleep. 
How to choose the best IEMs for sleeping?
As mentioned above, the headphone market offers a wide range of products – and each has its unique characteristics and features as well as pros and cons. The question is how to choose the best IEMs for sleeping? Well, in general, it is hard to choose the best one – but there are a few factors you should consider that will allow you to make an informed decision when it comes to choosing or buying the best IEMs. 
Comfort
The comfort level determines how long you will wear your IEMs. When you feel less discomfort, it means you can wear your IEMs for a longer period during the night. So, for young individuals, health experts and professionals recommend at least 8 to 10 hours of sleep. Therefore, when you opt to choose IEMs, you must determine the comfort level so that you can wear them for a considerable period. 
The material of the IEMs must not cause sweat or friction even if you use it for a longer period. The structural design of the IEMs must put pressure in your ear, which means it should not disturb the balance of fluids inside your ear. Therefore, you must choose IEMs with a good comfort level. 
Fit
Headphone experts know the importance of both comfort and fit, which goes hand-in-hand. When you buy a pair of IEMs and it is not fitting in your ears properly, then they are not comfortable or unfit for your ears.
On the other hand, IEMs with good fit means they will stay snug while you start your journey from the state of being dizzy to sleep. You don't want to wake up in a disturbed mood seeing your IEMs slipped from your ears and are under your neck or back. 
Noise Cancelation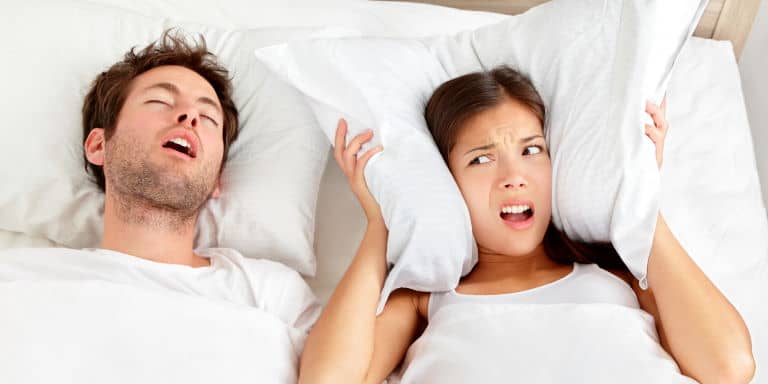 We know the significance of blocking out noise from your room's ambient for a good night's sleep. It is indeed a key factor when it comes to deep and comfortable sleeping. 
For instance, if you have purchased high-quality headphones – i.e. bigger in size, on-ear, and with good foam quality, it does not mean they have good noise cancelation. It is not a good idea to sleep with on-ear headphones because they won't allow you to sleep comfortably. They restrict your movements during sleep. 
On the other hand, you have IEMs, which are the only best solution to get enough sleep. However, when it comes to choosing them, you must choose the one that comes with noise cancelation or isolation feature. 
Some people just want to block out the noise that has a low frequency. For example, the droning of the engine sound – in case you are living in a place where you hear the sound of the train at night. 
Similarly, some people – for example in a family home – want to hear the sound of a fire alarm and crying baby. If you are a mother then it means you can't just ignore your baby waking up in the middle of the night. So, you need something (that is IEMs), which allows you to ignore other sounds but still alert enough to hear important sounds. 
If you have a low threshold for noise, you need IEMs that are designed for passive noise isolation. There are some models, which allow you to muffle noises while preventing sound leakages. In-ear monitors (IEMs) are capable of isolating noise as they seal the canal of your ear. 
Quality of sound
Sound quality is the most important factor when you opt to choose the best IEMs. You need to buy IEMs with balanced sound signatures. With slightly forward Mids, IEMs offer you to listen and enjoy relaxing music in a better way. A forward mid can bring out the clarity of instruments and vocals. 
Today, in the market, we find different sound signature IEMs, which emphasizes on the trebles and lows. We find it extremely important to choose IEMs with a better quality of sound since if you want to relax your mind with soothing music and avoid fatigue, there is no better choice than IEMs. 
Sleep Ergonomics
We know every individual has its specific style of sleeping – especially when you are in bed. Sleeping in train, bus, and plane is something else where everyone sleeps in the same direction or style. So, the position of your sleep plays an important role in choosing the best IEMs. 
If you sleep on your back with your hand on your side, you must avoid wired IEMs and instead choose the wireless ones. In contrast, if you sleep on your back and roll on either side, still you need to avoid wired headphones or IEMs. People who frequently roll or change sides during sleep time are known as "rollers." Wired IEMs are not ideal for rollers as well. 
What are the benefits and risks of using IEMs for sleeping?
When you sleep wearing IEMs, there are benefits and risks. Talking about the benefits, they are that better sleep – outweighing potential risks. So much so, being able to block out disturbing sounds or noise for tranquil sleep is the best benefit offered by IEMs. 
Not only do they offer a good night's sleep but you will also enjoy relaxing music to calm your mind and body. It is something like meditation and getting mindful before you go to the dreamland. 
Suppose you have stopped taking medications such as tranquilizers and are now trying to overcome your sleep problems with IEMs, here you need to understand the risks associated with them. 
First, the riskiest thing is the loss of hearing. For example, if you have turned on music – let's say 100 songs and the duration of each is 3 minutes on average, then you will listen to 300 minutes of music. No matter if you are asleep, the songs will continue to play. Thus, this can disturb your ear canal and the fluids in it. Eventually, doing this for months can cause the risk of hearing loss.
Other risks associated with using IEMs include building up of earwax. When the earwax becomes compact, it is not easy to remove it safely. Also, there is a risk of environmental allergens such as bacteria and fungus that can cause irritations or even infections in your ear canal. 
Excess of anything is harmful to your health. Therefore, we always advise our readers to use everything in moderation. Remember to exercise caution and adopt proper hygienic practices so that even if you use IEMs for a longer period, you would be able to overcome the side effects associated with them. 
Best In-Ear Monitors (IEM) for sleeping in 2020 
We are sure you have read the article carefully and understand the most important characteristics of IEMs and how they can benefit you, it's time to tell you about the best models we have chosen and tested. Continue reading! 
#1 Bose Quiet Comfort 20 Acoustic
| | |
| --- | --- |
| Headphone Fit | In-ear |
| Item Dimensions | 5 x 2.38 x 7.8 in |
| Color  | Black |
| Special Feature | Noise isolation |
Bose – as you know – is one of the most popular brands. When it comes to good night's sleep, this incredible brand does not disappoint people. Quiet Comfort 20 noise-canceling IEMs come with Tri-Port acoustic technology, which gives them a balanced frequency response. 
Bose has never left its tradition of high-quality design, comfort, and soothing sound. The sound of these IEMs is quite impressive. Bose Quiet Comfort offers a comfortable wear and less intrusiveness due to its high-quality design that does not sink right in the ear. 
These IEMs are powered by a built-in lithium-ion rechargeable battery. So, you can use them for up to 16 hours. You can use a USB lead to recharge them in just 2 hours. 
Pros
Comfortable design
Good facilities built-in
Bose Quiet Comfort IEMs are on top of our list. We have personally tested them and found that the comfortable design, good sound quality, and noise isolation features make them the best IEMs for sleeping. 
#2 Shure SE215-K-UNI
| | |
| --- | --- |
| Headphone Fit | In-ear |
| Item Dimensions | 2.1 x 7.8 x 3.2 in |
| Color  | Black, Blue, Clear, White |
| Special Feature | Sound Isolating, Detachable Cable, In-Line 3-Button Remote with Microphone |
Shure IEMs provide you with a natural listening experience. These IEMs are designed specifically for blocking out external noises. The Company has designed special Micro-Drivers that not only produce a natural sound but also canceling noise. These IEMs allow you to go to sleep quickly due to high-quality natural sound and comfort plugs. 
The 360-degree rotation of these IEMs' connectors allows the user to get the right fit. These IEMs also come with a 3.5mm connector, which is compatible with laptops, mp3 players, digital audio players, and CD players. 
Shure IEMs are lightweight but at the same time, they are sturdy enough. They offer high-quality sound. We have used and tested these IEMs and considering the features and comfort level, they have occupied the second position on our list. 
Pros
Nice sound with good bass.
Good fittings.
Considering the good quality sound plus the comfort level they provide, these IEMs are worth buying. Not only are they inexpensive but also offer good battery life and noise isolation. 
#3 Final Audio Design High-Resolution
| | |
| --- | --- |
| Headphone Fit | In-ear |
| Item Dimensions | 47 x 0.25 x 0.25 in |
| Color  | Black |
| Special Feature | Noise Isolation |
Final Audio Design is a new brand available on the market. This Asian company has recently gained a lot of popularity in the headphones market for its high-quality ear-buds, IEMs, and headphone products. 
Wearing IEMs is common in Asian countries like China, Japan, the Philippines, and others. These IEMs have also created a name for themselves in western countries – particularly in the United States. 
These IEMs have a barrel design, which is compact and comfortable to fit in your ear. Final Audio IEMs likewise provide a good seal in your ear. There is no plastic material used in manufacturing. The chrome finish of the product gives them a great classy look. Besides comfort, many people buy these IEMs for its peaceful sound. 
No matter which song you play, the technology used in these IEMs will make it relaxing for your ear – thus allowing your brain to calm your muscles so that you can get proper sleep. The quality of sound is thus amazing. 
Pros
High-quality material 
Comfortable fit 
Soothing sound
High-quality material, great quality sound, and comfortable fit will make everyone go for these IEMs. Although a new brand on the market, we think they are worth your hard-earned money. The noise isolation feature is incredible. 
#4 MAXROCK (TM) Unique Total Soft Silicon
| | |
| --- | --- |
| Headphone Fit | In-ear |
| Item Dimensions | 3.1 x 1.1 x 4.1 in |
| Color  | Black |
| Special Feature | Noise Isolation and Microphone |
Max Rock is another popular brand on the market that manufactures high-quality headphones and IEMs. This product comes with a lot of interesting features. Honestly, when we tested this product for sleep, we find the incredible benefits. Not only does it offer high-quality sound but at the same time, it fits well in the ear canal. So, we can say that these are one of the best IEMs for your good night's sleep. 
Max Rock IEMs have an incredible noise cancelation feature and have the ability to block out external noise, bodily noises such as buzzing or ringing, etc. Also, these IEMs come with a 3.5 mm connector, which works with a wide range of compatible devices. The built-in microphone is compatible with all brands of smartphones including Samsung and iPhone.
The best thing about these IEMs is that they can operate hands-free calling and you can likewise reject, answer, and/or end conversation options. The multipurpose functionalities of these IEMs are simply awesome and you can use them for many applications and not just for your sleep – for example, even if you are traveling, you can use them because they offer great comfort and good fitting in your ear canal. 
When we purchased and tested these IEMs, the only thing that concerned us was the absence of volume control. So, this means you will handle volume control from your laptop or smartphone or whatever device you use. Also, there is no battery – so these IEMs draw power from your smartphone device. 
Pros
Comfortable fit 
High-quality material 
Nice sound quality
Noise cancelation technology
Cons
A bit fragile
Absence of volume control
These are great IEMs for sleep. The comfortable fit and ergonomic design allow the user to use them as earplugs no matter if you are listening to music or not. They are well-made and lightweight – and the quality of sound is adequate. The price is low yet there are so many good features. Thus, this product is worth your money. 
#5 Carbo Tenore ZH-DX200-CT
| | |
| --- | --- |
| Headphone Fit | In-ear |
| Item Dimensions | 6.5 x 3.74 x 1.46 in |
| Color  | Black |
| Special Feature | Noise Isolation and Microphone |
Carbo Tenore IEMs offer high-quality sound. They come with the most competitive price. These IEMs are small, thin, come with durable cable along with light housings. The design of the product makes it comfortable for the user to sleep with. 
The driver's size is just 5.78mm and offers wide soundstage, a moderate mid-range, and well-defined bass. The noise cancellation and isolation features of this product provide you with airy, smooth, and soothing sound. 
The housings are made of carbon fiber aluminum material, which improves the speakers' performance. The design is lightweight and allows these IEMs to last long and even after extended use, your ear won't feel discomfort. 
Pros
Comfortable fit 
Carbon aluminum fiber material
Noise cancelation
Cons
Feels extremely lightweight when you hold them
The Carbo Tenore IEMs come with different ear tip sizes that allow everyone to fit them in their ear canals perfectly. The comfortable and custom seal is what makes people buy this product. 
Alternative Headphones to IEMs for Sleep
There are many headphone models, which offer high-quality sound and comfort for sleeping. If you don't like using IEMs, we have some of the best alternatives tested and reviewed. Continue reading! 
CozyPhones Sleep Headphones
| | |
| --- | --- |
| Headphone Fit | Over-ear |
| Item Dimensions | 5 x 3.5 x 1 in |
| Color  | Black |
| Special Feature | Stereo |
CozyPhones Sleep IEMs offer good design of headband with padded speakers. You can wear these IEMs like a normal headband without any discomfort. These IEMs have two linings – i.e. a fleece material on the outside and a cool mesh on the inside, which allow them to provide a soft and comfortable experience. 
CozyPhones comes with a 3.5mm connector that fits a wide range of multimedia devices including smartphones with headphone sockets. The connecting cable is made of a braided sturdy material. It is 54 inches long, which means you can place the device close. The removable flat speakers of these IEMs allow you to clean or wash the headband easily. 
Pros
Well Designed 
Two linings 
Good price
Cons
Produce a bit of sweat after wearing for a longer period
The only thing about these headphones that we would consider to buy them is the design, which offers extreme comfort to your ears. We recommend you to wear it in moderation. They are good for sleep. 
Tooks SPORTEC BAND
| | |
| --- | --- |
| Headphone Fit | On-ear |
| Item Dimensions | 9.8 x 5.91 x 1.61 in |
| Color  | Black |
| Special Feature | Stereo |
The Tooks Band is a headband product that not only provides your with excellent sound and music while you go to sleep but wearing it means you won't be worried about slipping as in the case of IEMs. 
The headband of this product has removable headphones, which means you can remove and wash them easily. Although these are not slim headphones but the flexible design offer comfort even when you are roller (a person who frequently changes positions during sleep). 
These headphones fit well on all head sizes and are not tight to give your irritable feeling. Moreover, the noise isolation feature of this product is simply amazing as it will reduce or completely block out unwanted noises in your room as well as the ones that are coming from within your body such as ringing and buzzing. The price is competitive. 
Pros
Flexible headband
Good fitting 
Inexpensive
Cons
The headband does not come in different sizes
The Took Sportec Band is an inexpensive product yet offers a comfortable fit and high-quality sound. Considering these features, we believe this product is the best alternative to IEMs. 
Conclusion
Wrapping up, sleep is important for your mental and physical health. When you get enough sleep, it improves blood circulation and fluid flow in your body – thus maintains a healthy balance and homeostasis in your body. 
Due to the stresses of today's fast-pacing world, many people don't get enough and appropriate sleep. Whatever the reason, you can now get a good night's sleep by wearing IEMs designed specifically for sleeping. 
Lastly, there are many products available on the market – make sure you choose the one that best fits your specific requirements. If you are not fond of IEMs, we have mentioned a few alternatives. Good Luck!