If you want to buy Apple AirPods or have recently bought them, you may wonder how much abuse they can handle to improve their longevity. Will they still work if you accidentally drop them? What if you drop the case with the AirPods inside? How many drops can these products survive? Well, in this article we will answer all of these questions and more. Now, to answer the most important question in your mind: 
No, AirPods would not break even if you drop them from a height of 10 feet. Many drop testers on YouTube have proved that the AirPods are built to withstand drops of several feet and can withstand a substantial amount of accidental abuse.
Now, let's look into some of the most common questions related to the build-quality of AirPods. 
Are the new AirPods Pro more robust than the previous versions?
The new AirPods Pro has the AirPods (2019) beat in almost every category such as the design, sound quality, features like active noise cancelation (ANC), fit, and more, except for the price. And, that includes the build-quality and sturdiness as well. The original AirPods is quite durable, but unlike the AirPods Pro, they are not rated IPX4 sweat and water-resistant.
Since the AirPods Pro has been built to be sweat and water-resistant for exercise and non-water sports, they are more robust than the previous version. However, according to some users, the original AirPods are more likely to survive drops compared to the AirPods Pro. 
What happens if you drop your AirPods?
Apple AirPods are made of high-quality durable hard plastic that ensures that the product can survive a few accidental falls without any dents or scratches. However, there are a lot of factors that you need to consider to answer this question. For eg., the height of the drop, the location of contact with the surface, and the type of surface. 
Generally, if you drop the AirPods from waist height (3-4 ft) on a soft surface such as on a carpeted or even a wooden floor, the probability of them being physically damaged is really low. Of course, you still need to check them to see whether they sound the same and all the sensors work as usual. 
Users have reported dropping their AirPods multiple times by accident on hard surfaces such as floors with titles, gravel, concrete sidewalk, and even on the road without noticing any damage or degradation in performance quality.
Independent drop testers on YouTube have also tested their durability by dropping them from different heights on concrete floors and the conclusion is that the AirPods suffer no scratch, dent, or physical damage when dropped from up to a height of 10 ft. And, they still work flawlessly.
Are the AirPods or AirPods Pro shockproof?
There is no official statement from Apple claiming that the AirPods or AirPods Pro is shockproof. Part of the reason why the AirPods and AirPods Pro can survive drops is their lightweight design and tough-plastic build quality. 
Their lightweight design allows the AirPods and AirPods Pro to bounce without much resistance when they hit the floor. This lowers the force of the impact when they fall and hit a surface because the energy is transferred in the opposite direction.
The AirPods case itself is sturdy enough to survive a few drops. However, if you want your product to be extra safe, you can purchase a shockproof protective case for your AirPods.
What happens if you drop your AirPods case?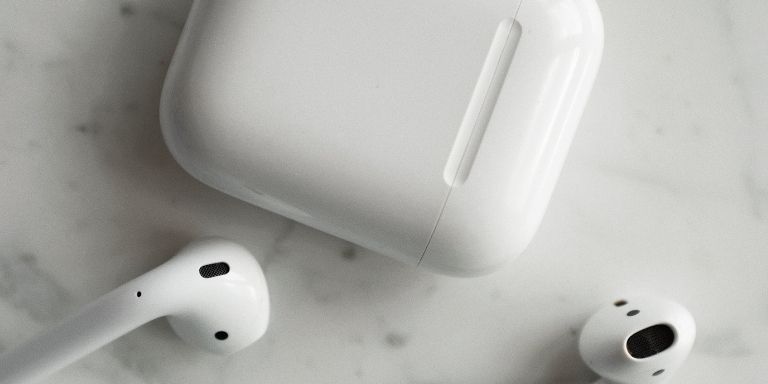 The AirPods case is made of hard vulcanized plastic and silicon. However, it is much heavier than the AirPods. Thus, when dropped accidentally from up to head height, although they may not break outright or suffer extensive damage, they are likely to suffer scratches and scuff marks.
What happens if you drop your AirPods in the Water?
The AirPods Pro is only rated IPX4 sweat and water-resistant, not waterproof. And, the AirPods don't have any rating. Thus, there is a real chance of damage occurring if water gets inside the products. Having said that, the general opinion is that the AirPods should not suffer any damage if you take them out of the water after a brief period and let them dry completely before use. 
There is a water-resistant screen behind the mesh grill of the AirPods that is sufficient to protect it from water contact for brief periods. In fact, if you see the video linked earlier in the post, you can witness the reviewer putting the AirPods in the washing machine for about 30 minutes and checking them to see that they are still working.
However, some users have reported charging issues for about a week after they dropped their AirPods in water.
What to do if you drop your AirPods in the Water?
If you accidentally dropped your AirPods in the water, you have to make sure to dry it completely from the inside. One way to do it is to wipe it thoroughly with a clean towel and place it inside a zip-top storage back along with silica gel packets. The silica gel packets help to absorb moisture and dry the inside of the AirPods more quickly. 
After 24 hours, test all the features of the AirPods and see if they are working properly or not. There is no use of placing the AirPods inside rice because it is not more effective than air drying. 
Alternatively, you may follow the steps mentioned below to eject the water inside your AirPods after drying them externally:
1. Download the Water Eject shortcut for iPhone and install it.
2. Connect the AirPods to your iPhone via Bluetooth and turn the volume all the way up. 
3. Make sure to cover the two sensors on the sides of the AirPods. Then, activate the Water Eject shortcut and tap on the 'Begin Water Ejection' option.
4. You would feel the AirPods vibrating as it slowly ejects the water out from the AirPods. Repeat the third step for as long or as many times as you want until you are satisfied.  
Do the AirPods or AirPods Pro fall out of your ears easily?
There are plenty of things that people love about the AirPods except for the price and the universal silicone tip. Since the AirPods tips are not interchangeable, you are stuck with only one tip and that is a problem because people don't have the same ear sizes. Thus, either they would be a good fit and stay in your ears or they won't. 
Many people have expressed their complaints after purchasing AirPods because they keep falling from their ears either during exercise or even with the slightest movement of their head. So, it is highly recommended that you try putting on the AirPods to check whether they fit your ear before purchasing the product. 
However, if you have already purchased them you may want to try some tricks to stop them from falling out from your ears.
Now, while the AirPods Pro also suffers from the same problems, you can purchase replaceable tips for AirPods Pro according to your ear size. The instructions to remove and attach ear tips are mentioned on the official support website.
What to do if one of your AirPods or AirPods Pro breaks or if you lose them?
The first thing that you need to do is contact Apple support or set up an appointment at an Apple Authorized Service Provider or Apple Store. Be sure to note the serial number of your AirPods or AirPods Pro checking the charging case. You can also note it by using your iOS device and going to Settings > General > About > AirPods for the serial number.
To get the repair or replacement service, you also need to bring proof of purchase and all the original accessories. 
If the products are covered under warranty, you only need to pay for Applecare+ service for each incident. This amounts to $29 for both the AirPods and the AirPods Pro. Otherwise, you need to pay an out-of-warranty fee which amounts to $89 for each AirPods Pro earbud and $69 for each AirPods earbud.
It is not uncommon for people to lose their AirPods after they drop them at their homes or outside. The lost fee for AirPods Pro is $89 each and for AirPods is $69 each.
Conclusion
Both the AirPods and AirPods Pro are built sturdily and would survive quite a few accidental drops even on hard floors or rough surfaces. However, you should still try to keep them as safe as possible because, with a little bad luck, they could be damaged quite severely. 
According to many users, the average lifespan of Apple AirPods is about 18 months to 2 years. This is considering you drop them a few times and they survive the fall. However, the actual lifespan of the product could be much longer if you take care of them properly.