FM transmitters are a quick and low-cost way of reviving your car's old and pristine music system without spending a fortune. You do not have to change the head unit or install an expensive FM modulator. An FM transmitter is an affordable solution and like most cost-effective solutions, they do have a few disadvantages. They will occasionally cause trouble by creating unnecessary mind-numbing static, which is not uncommon. Fortunately, you can easily fix those problems without much of an issue.
You can get rid of the static by calibrating your car's radio to the FM transmitter. Get your FM transmitter and set it to non-channel frequency. Go to your car's radio and dial in the same non-channel frequency. Once they are both set at the number, switch on your FM transmitter to get rid of the static. 
Let's take a more in-depth dive into what an FM transmitter is, how it works, what are its problems, and how you can fix them. 
What is an FM transmitter?
FM transmitters are the cheapest device on the market that lets you wirelessly connect your smartphone to the car's music system. This is pretty old tech, and unlike Bluetooth, has many limitations.
Why do people use it?
A lot of old cars do not support Bluetooth technology. You either have to replace the entire head unit or install a permanent wired connection, both of which require a lot of work.
An FM transmitter is the most cost-effective solution to this conundrum. They are small, can be easily plugged into your smartphone, and lasts for about 4-5 hours on a single charge.
How does it work?
FM transmitters are like portable radio stations. These devices have frequency presets and broadcast exclusively to your car's radio. Your car then picks up the incoming radio waves from your FM transmitter and plays whatever is playing on your smartphone.
What are the drawbacks?
As mentioned earlier, FM transmitters are quite an old technology and suffer from the following drawbacks:
1. Inferior sound quality- Sound quality is not the greatest and is often affected by its strength and network congestion. For instance, Australia suffers greatly from network congestion. So if you are reading this from Australia, FM transmitters are not an efficient option there. You are better off replacing the head unit with one that supports Bluetooth.
2. No hands-free controls- Lack of hands-free controls make it difficult to manage, change songs, answer calls, switch radio stations while driving. Modern cars have music controls embedded in the steering itself, which is not the case for these transmitters.
Other than being a cheaper solution compared to Bluetooth and other alternatives, the FM transmitters are a hard sell. However, static generation is not the only problem associated with these devices. But, there are other issues that plague the daily lives of an FM transmitter user.
How to get rid of FM Transmitter static noise?
If you are still reading then it's probably because you cannot afford to change your car's head unit, and you have probably come across the static problem. Let's take a look at how you can fix this.
Pick the correct frequency
Radio stations all over the country are broadcasting signals 24×7 and they are way more powerful than your portable FM transmitter. If you pick an active radio station, the broadcast of that station will bleed through the transmission. So while listening to your favorite sound, you could end up hearing the commentary from the station. The best way to avoid the issue is to pick an unused frequency to avoid additional interference.
Proper transmitter positioning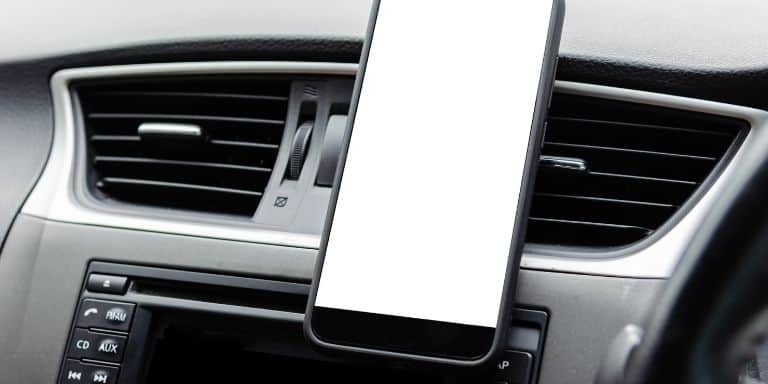 The slightest obstruction between the transmitter and the car's radio antenna can cause distortion. Trying to connect to the radio, even from the back seat can cause serious connectivity issues. For best results, keep the transmitter as close to the head unit as you can, possibly over the dashboard. There is usually a smartphone holder in this area. Place your transmitter-connected phone here for the best reception possible.
Adjust the frequency of your transmitters
Transmitters only work in a selected frequency range. They either come preloaded with a frequency setting, you can adjust it freely within a very limited range. If for any reason you are experiencing interference from a local station or any other source, adjust the frequency to boost the signal and get rid of any such interference.
Get a new one
Even if the transmitter keeps receiving interference after several minute adjustments, it's better that you replace it. You can only tweak the transmitter a given number of times. The next time you buy a transmitter, make sure it has a high signal strength compared to your previous choice.
Caution: Make sure your car's radio supports the frequency of your newly bought transmitter, otherwise it will not be able to connect with the transmitter.
F.A.Q.
1. What features to look for in a new FM transmitter?
Although FM transmitters are cheap and affordable products, keep these features in mind for best performance:
The transmitter must support manual tuning. Some transmitters only allow you to select from a few preset options. If those frequencies do not work, you are stuck with a dead transmitter.
Multiple connectivity options such as MP3, USB stick, and SD card support. All these options offer a better music quality. Most FM transmitters offer multitudes of connectivity options, even the cheap ones. So if you are buying one make sure it supports the aforementioned features.
Here is a great FM transmitter from LIHAN:
2. What is the right frequency for FM transmitters?
When you are tuning your FM transmitters, it's best that you start from the extreme ends, as you're likely to find a free frequency in these regions. 
Some commonly available frequencies fall in the range of 87.9 to 90 MHz and 107 MHz to 107.9 MHz. Usually, any frequency below 90MHz and above 107 MHz offers the best results.
3. How to avoid interference from other frequencies?
It is not much you can do about it. Sometimes you will come across a situation when even on isolated frequencies you may experience interference from other radio stations since their broadcasts are way too powerful. 
The best way to avoid the issue is to find an empty spot on the transmitter that is 0.2 to 0.3 MHz higher or lower than the neighboring station's frequency. 
4. How to find available empty bandwidth in your region?
Not all geographical locations have a similar available bandwidth. To help with this issue, FM transmitter manufacturers maintain a list of available FM stations in a given area, such as:
Although these websites have a list of available frequencies, they are not always reliable as they are based on the FCC database, which does not take into consideration real-world conditions.
So, at most, you can consult these sites for a reference. But be prepared to do some manual tuning as the frequencies might not work right off the bat.
Conclusion
If you are living in a large metropolitan area, a simple FM transmitter might not work, no matter how much you tweak it. It is better to use the lookup tools to scan for available bandwidth in your area before you decide to get yourself a transmitter.