Listening to music with earbuds can feel great while working out or commuting to work. They are not as heavy as headphones and are thus easier to carry. However, your purpose for desiring an earbud may be different than regular users. Maybe you are a busy person who needs to attend many calls throughout the day. In such a case, you may wonder how the microphone of an earbud performs or whether all earbuds have one.
In this article, we will answer all your concerns regarding earbud mics. Before we get started, let us answer whether all earbuds have a mic.
No, all earbuds don't have a microphone as they are primarily used for listening to music. However, almost all expensive and popular earbuds have built-in microphones for making calls and to allow hands-free communication. Wired earbuds with mics may also feature an inline remote with volume controls. 
In this guide, you will learn how to choose an earbud with a good microphone, how the quality of earbud mics fare against external mics, the different types of earbud mics, and much more. Let's get started!
How do you know if your earbuds have a mic?
Whether you own a wired earbud or a wireless (Bluetooth) earbud, you may wonder where their mics are located. There are several ways to check whether your earbuds have a mic and where they are located.
1.  Check the earbud connector plug – In the case of wired earbuds, you would notice that their connector plug (3.5 mm jack plug) has white or black rings on them. If you observe only two rings, and three metal sections (ground, right, left), they are normal stereo earbuds. However, if you notice three rings with four metal sections (mic, ground, right, left), the earbud has a mic.
2. Observe the cables – Wired earbuds have in-line microphones, i.e the mics are built into the cable of the earbuds. Cheaper earbuds typically contain only the microphone surrounded by a casing around the cable. Better models also feature buttons for volume control and track controls in the casing along with the mic.
3.  Check the casing or connector band – True wireless earbuds feature their mic in the casing. The most expensive models may contain more than one mic in each earbud. On the other hand, wireless earbuds with connector bands generally feature their mic on the connector band which is as noticeable as in-line mics.
How is the quality of earbud mics?
The quality of earbud mics can vary a lot depending on the price, mic technology, and model. Cheaper models generally just get the job done during calls. However, for recording professional-quality audio for podcasts, video meetings, and Skype calls, you should buy a model that features some level of ANC technology and has good reviews to match the performance of a good quality headset or an external mic.
Types of earbud mics
Earbud mics can be categorized into two types: Electret Condenser Microphones (ECM)
and Micro-Electro-Mechanical System (MEMS). Both transducer technology feature a diaphragm that converts the acoustic energy (sound waves) generated when it vibrates in response to external sound waves into electrical signals, which could then be used to produce audio signals. 
However, MEMS have the ability to convert and encode variations in the host system.
Important Features of ECM and MEMS
Electret Condenser Microphones (ECM)
Micro-Electro-Mechanical System (MEMS)
ECM comes in all sizes except small.
MEMS are much smaller and have higher performance density
These are ideal for many devices due to their cost.
These are ideal for true wireless earbuds due to their size.
ECM are the practical choice when design upgrades are needed for moisture and dust protection.
MEMS are the practical choice for electrically noisy environments due to their relatively lower output impedance.
What to look for when choosing an earbud with mic?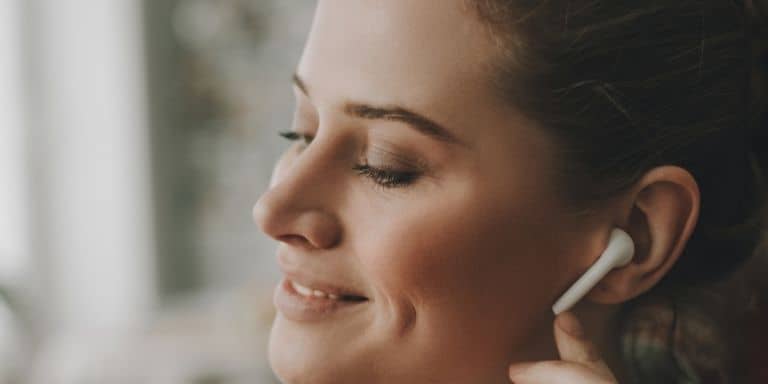 When shopping for an earbud with a mic, you have to research the sound quality offered by the device as well as the mic quality. Obviously, it is a poor choice to buy an earbud with a good mic that sounds bad when playing music. Apart from that, you have to look for other important factors. Here are a few factors that you should look for when looking for an earbud with a good mic.
Noise filtering options
Without good noise filtering, the performance of the earbud mic can suffer greatly. It would introduce background noise and static when recording audio, during calls, and lead to a disappointing experience. Noise filtering isolates your voice and allows the receiver to understand your voice clearly.
Earbuds that feature MEMS mic offer better noise filtering at the chip level compared to ECM technology. Still, you should go one step further and choose an earbud with an Active Noise Cancellation (ANC) mic to get the best experience. Note that the ANC technology for mics is different from ANC technology featured in headphones like Sony WH-1000XM3 and Bose QC35 II. 
Earbuds that feature ANC technology typically have multiple mics, few closer to the mouth to pick up voice and others, at a distance to filter surrounding noise through Digital Signal Processing (DSP). Special converters make it possible to convert the analog signals to higher quality digitized signals. 
Clear Voice Capture (cVc) by Qualcomm and Jabra Noise Blackout are two of the most popular ANC technologies featured on earbuds.
Support for voice assistants
Earbuds that support integrated voice assistant options and allow you to access your smartphone's voice-controlled personal assistants such as Alexa, Cortana, or Siri are much more functional. There is no need to swipe or touch anything on your smartphone since you can access the voice assistants via voice commands, which is incredibly useful when cooking, driving or doing any activity that requires you to engage your hands and attention.
Voice Pickup
Earbuds that have better sensitivity and frequency range would pick up the voice with better volume and quality when you speak. It would also allow you to 'communicate' with your personal voice assistant better. However, make sure that the earbuds have noise filtering if they feature a very sensitive mic. Otherwise, they would pick up unwanted noise too.
Comfort and fit
Both comfort and fit are crucial if you plan to wear your earbuds for hours every day. Typically, these factors are influenced by the weight of the earbud and its design. Earbuds with bad design get uncomfortable to wear for long durations and may slip out frequently. Thus, you should always choose an earbud that fits snugly and produces no discomfort even when you wear it for many hours.
Mic position
The mic position in the earbud also affects voice pickup. The closer it is to your mouth, the clearer the voice pickup you can expect. Similarly, more distance between the mic and mouth would pick up more ambient noise.
Popular Earbuds with Good Quality Mics
Listed below are some of the most popular earbuds with good mic quality:
1. Apple Airpods Pro – The Airpods pro is a good upgrade over the previous generation of Airpods. It's a popular choice for Apple users and you cannot go wrong with it. They feature good ANC with two mics in each earbud, adaptive EQ, and IPX4 water and sweat resistance. 
The sound quality is good and the hands-free voice assistant features work great. Plus, you can turn on the transparency mode if you want to stay aware of the external environment even when the ANC mode is on.
2. Jabra Elite Active 65t – The Jabra Elite Active 65t is a community favorite due to its snug fit, design, dust and water protection (IP56), powerful noise isolation with four MEMs mic, stable connectivity, good battery life, and the support for quick charge functionality. It also supports voice commands and allows the user to personalize the sound experience with the Jabra Sound+ app.
The wide frequency range of mic (100 Hz to 10 kHz) allows the device to pick up voice easily and the two-year warranty makes sure you don't fear doing any physical activity like exercising or running while wearing them.
3. Powerbeats Pro True Wireless Earbuds – The Powerbeats Pro is known for its outstanding battery life, quick charge functionality, exceptional mic performance due to its dual beam-forming microphone, and enjoyable sound quality. These also feature Apple's proprietary H1 Chip and offer a stable wireless connection even from a distance. 
You can activate Siri on the go due as the voice pickup is pretty good. The only downside to this product may be the weight with its bulky carry case.
Conclusion
Choosing a quality earbud with a good microphone is not easy. Fortunately, there are a lot of options available online that you can choose from and some of these can definitely fulfill your needs. You may fall in love with a good pair of true wireless earbuds even more than your headphones! We hope this guide has been helpful and cleared most of your doubts regarding earbuds with mic.