A good set of earbuds can make a huge difference in listening to an audiobook. When recording a book, the actor could yell or whisper during the course of the recording. So the $3.99 earbuds may not be the best buy.
Regardless if you call them In-ear or earbuds, in order to immerse yourself in an audiobook, you need to have quality earbuds. Here are 16 earbuds for listening to audiobooks that will increase your comfort and enjoyment.
Sony WF-1000XM3 True Wireless Earbuds
RHA MA390 Wireless
JayBird BlueBuds X
Cambridge Audio Melomania 1
Sennheiser Momentum In-Ear
Jabra Elite 65t True Wireless
OnePlus Bullets Wireless
Optoma NuForce BE Sport4
1More Triple Driver In-Ear Headphone
RHA T20i
Optoma NuForce BE Sport3
1More Quad Driver In-Ear Headphones
LG HBS-700W
Sony WF-1000X
Bose SoundSport Wireless
Bose SoundSport Free
My Recommended Earbuds for Audiobooks
The earbuds in this article will cover both wireless and wired options. Some of the wireless will have an extra battery case that can charge the earbuds without an extra power source.
Here is a table with all the earbuds and info about the battery life.
Battery
earbuds
Carrying
case
Sony WF-1000XM3 True Wireless Earbuds
6 hours
18 hours
RHA MA390 Wireless
8 hours
No case
JayBird BlueBuds X
8 hours
No case
Cambridge Audio Melomania 1
9 hours
36 hours
Sennheiser Momentum In-Ear
wired
wired
Jabra Elite 65t True Wireless
5 hours
10 hours
OnePlus Bullets Wireless
5 hours
No case
Optoma NuForce BE Sport4
10 hours
No case
1More Triple Driver In-Ear Headphone
wired
wired
RHA T20i
wired
wired
Optoma NuForce BE Sport3
10 hours
No case
1More Quad Driver In-Ear Headphones
wired
wired
LG HBS-700W
10 hours
No case
Sony WF-1000X
9 hours
36 hours
Bose SoundSport Wireless
6 hours
No case
Bose SoundSport Free
5 hours
10 hours
1. Sony WF-1000XM3 True Wireless Earbuds 
The Sony WF-1000XM3 True Wireless Earbuds are noise-cancelling wireless earbuds. This is a rarity when it comes to earbuds. It's not going to give you the same isolation as over-ear headphones but if you're into the earbud feel and look, then the compromise is worth it. The fact that it's a true wireless is a bonus. However, it does have two drawbacks. There are no volume controls on the earbuds. It's also not suitable for sports.
2. RHA Ma390 Wireless
This is actually a neckbud, which is an earbud worn around the neck. The RHA Ma390 Wireless is one of the best for the price. It has a clear dynamic sound and has a battery life of 8 hours. 
3. JayBird BlueBuds X
This one is great for the fitness fiend. They don't offer the best sound quality. In other words, an audiophile won't probably go for them. But if you want to listen to a book and exercise at the same time, this one is for you. The JayBird BlueBuds X stays put in your ear even during the most rigorous workout. And unlike some Bluetooth earbuds or headphones, they hold a signal. Stopping, dropping and skipping are common with most devices. But the BlueBuds' SignalPlus software enhances the strength of the broadcast so you should suffer through minimal sound issues.
4. Cambridge Audio Melomania 1
This has no wires but a great sound. The sound is so good that it rivals some of the best over-ear headphones. This is truly amazing. The Cambridge Audio Melomania 1 also has superior battery life. It has a comfortable design, but the control buttons are awkward. 
5. Sennheiser Momentum In-Ear
These are affordable with a stellar sound. In fact, these are among the best deals in earbuds on the market. The Sennheiser Momentum has a version for OS—Android and iOS.
6. Jabra Elite 65t True Wireless
This has an understated, mature design and is easy to use. The Jabra has a 15-hour battery life and a wireless range of 33 feet. It also has a reliable wireless connection with truly wireless earbuds. The downside to these great earbuds is that they have limited water resistance.
7. OnePlus Bullets Wireless
Although OnePlus is most know for phones like the OnePlus 6 they also made an excellent earbud called OnePlus Bullets Wireless. These are great for the price. They have a wonderfully balanced sound and a strong wireless connection. The one drawback is an average battery life of 8 hours.
8. Optoma NuForce BE Sport4
These earbuds are good for basically all situations. They were specifically designed for the gym, but they are great in isolating audio in a crowded city environment. They have 10-hour battery life. They can charge two hours' worth of use in only 15 minutes.
9. 1More Triple Driver In-Ear Headphone
Because of their excellent build and design, the 1More Triple Driver is quite comfortable and is unmatched in value. However, the plastic remote feels cheap. It's sister the 1Mored Quad driver in-ear headphone had a little extra refinement and luxury.
10. RHA T20i
The RHA T20i in-ear headphone has customizable filters. These filters thread into the housings and let you choose from either bass, treble, or reference. The individual filters make an audible impact and are easy to swap out. The quality is excellent, and they are extremely comfortable. However, there's no remote for android. There's also some cable noise.
11. Optoma NuForce BE Sport3
These are one of the best wireless earbuds you can buy for the gym. The Optoma NuForce BE Sport3 has a good sound and great battery life. And the best is they have incredible isolation. They are built to be almost indestructible. The downside is that the remote weigh the cable down.
12. 1More Quad Driver In-Ear Headphones
These are expensive but worth every penny. The 1More Quad Driver has beautifully balanced sound and smartphone compatibility. Although they're probably a little over the top for an audiobook. But your audiophiles will love them. It's sister, the 1More Triple Driver, is actually the better value. However, if you want a better build and more detailed sound these are for you.
13. LG HBS-700W
This one does an impressive job considering being a cheap option for a good pair of Bluetooth earbuds. The LG HBS-700W offers a decent sound with comfortable wear. The device itself rests around your neck with total comfort. The battery lasts 10 hours. Although the controls are simple, they do have a learning curve.
14. Sony WF-1000X
These get good sound quality and have noise-cancelling technology. They have 9 hours of battery (3 per charge and 6 provided by the charging case). They also have a selection of six ear tips so you should find a fit. The downside is it tends to drop out every now and again. Sony has a new improved model with the WF-1000XM3 so this one won't be around for long.
15. Bose SoundSport Wireless
These are very comfortable and sound great. The Bose SoundSport is weather-resistant for those outdoor workouts. They're pretty versatile. Their wing tips stay in your ears, so you don't have to worry about them falling out. They're also reliable with the wireless signal and easy to use. The downside is they don't last long with only 6-hour battery life.
16. Bose SoundSport Free
Bose's in-ears are the best when it comes to sporty alternatives. These don't burrow into your ears, so they are super comfortable to wear. A recent update improved its stability. The earbud-mounted controls save you time from having to take your phone out. A bonus is there's no significant downside.
Characteristics of a Good Audiobook Headphone
In order to immerse yourself in a good audiobook, you need a great pair of headphones.  An old pair probably won't be good enough. There's nothing worse than your audiobook being drowned out by outside noise. You can lose part of the story through distractions. Also if the sound quality is substandard it can impede understanding what is being said. Decent headphones have four attributes. These denote quality.
Comfort
Frequency response
Noise reduction
Brand
1. Comfort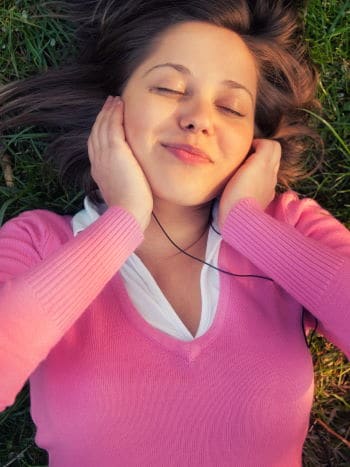 Most people listen to audiobooks for long periods of time. It could be on the bus, car rides, airplanes or just in the tub. And most people have had to deal with a sore ear feeling because of poor quality headphones. Besides being painful, these headphones can do a lot of damage.
2. Frequency response
Although not as important for speech as it is for music it still matters to a certain extent. Our brains use the lower frequency ranges to interpret speech. So, we can lose the higher tones but not the lower. That means good quality bass is important. The cheaper earbuds tend to be more treble. In fact, they can even be tinny. This can interfere with your listening pleasure.
3. Noise reduction
Whether you're biking, running or driving in the car, most people are too busy to read a book. That's why audiobooks have increased in popularity. But a major problem with listening is the ambient noise. It comes in many forms. It could be a car's engine or people talking, but it's always there. The temptation is to turn up the volume, but that can lead to permanent damage. There are two different ways to deal with this ambient noise. 
Noise Cancelling—Active or noise-cancelling headphones utilize microphones to listen to incoming sounds. A noise-cancellation speaker emits an inverse wave (sound wave with the same amplitude but with an inverted phase. This is also known as antiphase). The waves combine to form a new wave. In a process called interference, they effectively cancel each other out. As a result, these inverse waves cancel out the ambient sound. This protects your hearing.
Noise reduction—Many in-ear and on-ear headphones isolate your ear from ambient noise. The headphone creates a physical barrier between your ear and the outside noise.
So, between noise cancelling and noise reduction, which is best? Noise cancelling is the best for fighting ambient noise. You should look for this feature when buying headphones. By purchasing noise-cancelling headphones, you protect your sensitive eardrums for both the short term and the long term.
4. Brand
A famous brand doesn't necessarily mean quality. Do the research. And find a headphone, whether it be in-ear of on-ear that meets your needs.
Styles of Headphones Available for Audiobooks
There are different styles of headphones on the market that fit individual needs and preferences for audiobook listening. When you are choosing your headphones, consider what you want your headphones to offer – comfort, clear sound, the ability to cancel out noise, etc.
Types of headphones that can be used to listen to audiobooks include:
Closed-back headphones offer a way to listen to your audiobook without noise seeping into your experience. These headphones give an isolated listening experience that can allow you to get lost in your audiobook without interruptions.
Open-back headphones are made very similarly to closed-back headphones, but they do not have a backing on the earpieces. The open-back design allows natural sounds from around you to come in and delivers a more natural listening experience. They are useful if you are listening in an area where you need to be aware of your surroundings.
On-ear headphones are the headphones that most people think of when they hear the word headphones. These have been popular since the age of Walkmans in the 80s and 90s. They simply sit on top of the ears and deliver sound through a padded earpiece.
Over-ear headphones are headphones that completely cover the ears. If you desire superior noise reduction for your listening experience, then these are the headphones you need. They are the preferred choice for people who want complete noise isolation and are capable of great sound quality.
In-ear headphones are known for being portable, versatile, and convenient. Many people believe that in-ear headphones and earbuds are the same, but they are not. In-ear headphones sit a bit further into the ear and send sound directly into the ear canal. They are a wonderful choice for the audiobook listener that is constantly on the go but still wants quality sound with little outside noise.
Earbuds, as previously stated, are not the same as in-ear headphones. They are just as portable, versatile, and convenient as in-ear headphones, but they sit in the outside of the ear. They provide a safer listening experience for your ears and are a good choice for audiobook listeners who want to block out external noise.
Bluetooth or wireless headphone technology is amazing. Bluetooth headphones can be any of the headphones listed, as long as they are equipped with Bluetooth technology. This capability can give you the option to use wireless headphones for the ultimate portability and convenience.
Your choice of headphones will directly reflect the kind of audiobook listening experience that you want. Here are some questions to consider:
Do you need your headphones to be portable? 
Do you want to prevent outside noise from getting in?
Will you be listening to audiobooks in noisy areas? Or will you be listening in quiet areas?  
Do you usually listen to audiobooks at home, where you need to hear background noise like children playing? 
Do you like the fashion statement that comes with bulkier over the ear headphones or do you prefer the subtlety of earbuds?
Which kind of headphones do you find most comfortable?
Do you like the freedom of Bluetooth technology or does having to charge your headphones (along with all of the other electronics in your life) stress you out?
Many factors will affect your headphone decision, but it is a very personal choice. The best thing you can do is try out as many styles as possible, and find out what you like! But maybe do it before you invest in a high-quality pair of headphones that you don't like.
Can Headphones Cause a Hearing Loss?
To understand the headphones' effect on a potential hearing loss is to understand hearing loss in general. Noise-Induced Hearing Loss (NIHL), is hearing loss caused by either a sudden loud noise (like an explosion) or continuous noise above a specific decibel. 
A decibel is a unit of sound. Sounds at or below 70, even after long exposure, are unlikely to cause hearing loss. However, long or repeated exposure at or above 85 decibels can cause hearing loss. The louder the noise the shorter amount of time it takes to cause damage. Below are average decibels for familiar sounds:
Normal conversation; 60-70 decibels
Movie theater; 74-104 decibels
Motorcycles; 80-120 decibels
Music through headphones at maximum volume; 94-110 decibels
Sirens; 110-129 decibels
Fireworks show; 140-160 decibels
The distance you are from the sound plus the time you're exposed, contribute to the potential damage. The rule is to avoid sounds that is too loud, too close or lasts too long.
With headphones the distance is close, the sound lasts a long time and is often loud. That's why they are a culprit when it comes to damaging hearing. Why do people turn up the volume so high in the first place?
To drown out ambient noise.
To compensate for ear fatigue (after a long period using headphones, your eardrum becomes weary and you don't hear your best)
Already have some hearing damage
How High do Most People Turn the Volume Up?
Typically, people will listen through their earbuds 13 decibels higher than the background noise. This really isn't a big deal if you're in an area where the background noise runs low; like 60 decibels. That will put you at 73 decibels which is fine for most people. However, if you're in a noisy restaurant where the background noise is 70 you're now cranking the volume to the danger zone. 
"When the background noise induces [people] to listen 13 decibels louder than the background and the background is 70 decibels, now we're talking about potential to do damage."

Dr. Brian Fligor, AuD
Public transportation is horribly loud. The average noise level on subway platforms and inside trains is 94 decibels. When you add 13 decibels to that, you're now at a staggering 107-113 decibels. Keep in mind people can only be exposed to that high a decibel 15 minutes a day. A commute is usually much longer than that.
Is Hearing Loss from Headphones Common?
Hearing loss due to loud headphones are becoming increasingly common. Teen hearing loss has increased 30 percent since the 1990s. This loss is blamed on headphones. Although hearing loss in adults has leveled off. It should be better. Manufacturing jobs that used to be the culprit in hearing loss have diminished in this country. Therefore, the numbers should be down. That's not the case.
How Do You Tell if Headphones are too Loud?
If you've ever sat next to someone with headphones and you can hear what they're listening to, they probably have the volume up too high. Standard headphones that are powered up all the way can emit sound decibels as loud as 110. That's comparable to a power saw. Most people don't even think about the damage.
"I stress to my patients and their parents that if you can't hear anything going on around you when listening to headphones, the decibel level is too high."

Dr. James E. Foy, DO, an osteopathic pediatrician
Many people aren't aware that their headphones are too loud unless someone next to them, speaks up. But there is a simple way for you tell if they're too loud. Turn on the volume you normally listen to and then hold your headphones at arm's length away from you. If you can still hear them, they're probably way too loud. Conducting and following up with the results of the test could aid in preventing your hearing from being damaged.
Making Sure Your Volume Isn't Too High
There are several ways to make sure the volume on your headphones isn't too high.
1. Use noise-cancelling headphones
With the new noise-cancelling technology, it's now more comfortable to use these. With the in-ear headphones, you can have the discreet look. You can also avoid the bulkiness of over-the-ear headphones.
2. Kids' Earbuds
Fortunately, there are earbuds on the market specifically made for kids. These buds include an integrated volume control. The listening devices automatically limits volume to no more than 90 decibels. 
3. Utilize volume on smartphones
In general, adult headphones don't have volume limiting controls. But if you're using your smartphone to play your audiobook, you can use the controls in settings. There are also apps. Both Apple and Android apps allow you to set maximum sound levels for your device or the individual apps within it. Although these apps can also boost sound so be careful, you're not tempted.
4. Follow the volume rule
"First and foremost, follow the 60/60 rule in regards to percentage of maximum volume and duration of Time."

Dr. Foy
This mean, don't go beyond 60 decibels for more than 60 minutes a day. Although, this may be hard to do. Check out the list of decibels above and gauge according to the noisy environment you're in.
What Else Can Headphones Harm?
Besides hearing loss, there are several other so-called issues with headphones. Here are the top ones.
1. Damaged Hair
Over-the-ear headphones can-do long-term damage to your hair. Celebrity hairstylist Castillo claims that the headphone pushing back and forth against your head does the damage. It roughs up follicles and causes breakage. Eventually thinning could occur. Dyed or dry hair is especially at risk.
But there is help. Use a good conditioner. The conditioner will let the headphones glide over your hair and keep it from snagging and pulling. 
The other option, when listening to a good book while walking down the street, is to just use earbuds. 
2. Headache
Headphones can induce a headache. They can even cause migraines. You might think it's the volume level that is causing the headache. And that can't be totally discounted. But the main culprit of the headache is the design of the headphone. The headaches are caused by wearing over the ear headphones. They are external compression headaches. 
These headaches usually just feel like an average headache. In more extreme cases, some people begin to experience phantom headphone headaches. This occurs when they aren't wearing headphones.
There are ways to eliminate and prevent these headaches.
Reduce the time using headphones—This can be hard but if you're dedicated to your headphones, just plan to only wear them in hour-long intervals. Instead of listening to them for four, breaking every hour will help your head. This gives your ears and temples time to relax and get a break from the pressure.  
Adjust your headphones—They are not custom made. But they do come with adjustable straps. Experiment with yours until you get it right. If they seem ok but you're still getting headaches, try to make them even looser.
Find new headphones—If you've tried several different types of over-the-ear headphones and you're still having headaches, you need to give them up. Try earbuds or in-ear headphones. You can either find the headphones or find that bottle of aspirin. 
3. Baldness
This one is just an old wives' tale. There is no evidence that you will lose your hair from wearing headphones. But if you're really worried, wear earbuds.