This post may contain affiliate links which means that, if you choose to make a purchase, I may earn a small commission at no extra cost to you.
---
Driving a truck is not easy as truckers have to sit in one place for hours on end. Combine that with long-distance rides, and truckers do not have a lot of spare time for friends or family. But you can often find truckers wearing headsets. One day, I asked a trucker friend of mine why he wears headsets all the time and he replied with the following:
"Because it's easier than holding the phone in between my shoulder and chin". Thus, truckers wear Bluetooth headsets connected to their mobile phones to keep their hands free for driving and other work. It allows them to talk with family, friends, and the fleet manager. 
Most of their time is spent on the road. So, truck drivers need to function without distraction in order to maneuver difficult terrain or the million-dollar cargo they are carrying will be done for. There are a bunch of other reasons why truckers wear headsets.
In fact, every profession is accompanied by nuances, which you get to learn from experience. So, they also have strict criteria when choosing a headset for the job. In the following sections, I will discuss various reasons why a trucker wears headsets and which factors influence their choices. So without further ado, let's roll!
Why are headsets important for truckers?
1. To maintain constant communication with the fleet management – Constant communication with the fleet management team is one of the main reasons why truckers use headsets. The purpose of fleet management is to keep records of the vehicles, track it's lifecycle, reduce risk and increase the productivity of the trucks. 
Truckers need to talk with the fleet management because they need instruction from time to time regarding the destination and the routes to take to reach the destination.
2. Weather updates – Truckers need to be wary of the road at all times especially in regions with difficult terrain which can be worsened by bad weather. Timely weather updates enable them to plan the pace for the trip ahead. They may even take a different course than previously decided based on weather updates. This not only protects them but also makes sure the consignment is protected from potential harm due to storms and cyclones.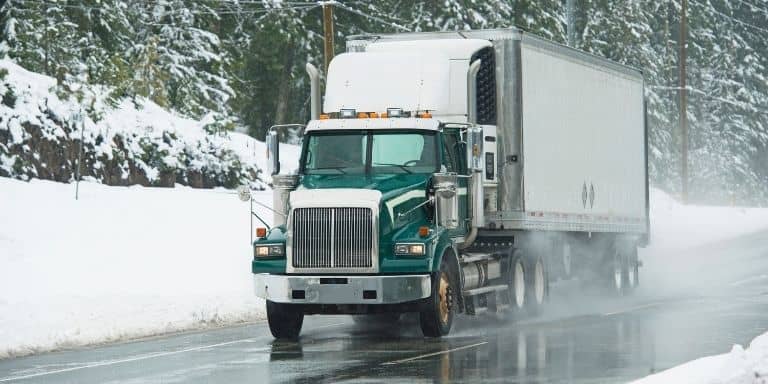 3. Quick update calls – Truckers need to make frequent calls to the fleet management team regarding various hurdles they face on the road such as roadblocks, accidents, bad roads, etc. They also need to relay breakdowns and detour requests. It will waste a lot of time if they pick up the phone every time to make a call, and the wireless headsets take care of that problem.
4. Communication with the family – Truckers lead a very busy life and stopping the truck to call their family is a luxury they cannot afford. Bluetooth headsets are one of the best ways to keep tabs on what's going on back at home. The loving voice of a family member or a friend goes a long way in encouraging them to do what they do best.
5. Navigation – Sometimes truckers cannot even take their eyes off the road for a single moment. So what happens when they need to check the map? They usually do that via the headset. Voice-based navigation is enough to tell them about their destination and they do not have to bother checking the GPS every time they are in need of on-road directions.
6. Entertainment – Driving for hours on end can get very boring very quickly, especially since truckers do not have any company. Their smartphones are their only companion. Most headsets are one-sided, so even if truck drivers listen to music their ears are on the road. A little bit of music during long trips can make the journey a whole lot smoother.
7. Noise cancellation – Now noise cancellation is not applicable in every situation, especially not in cities. But what if you are driving through some rough terrain, far away from the confines of a cityscape? The ambient noise in such regions can be distracting. Even the sound of the engine can at times appear irritating and noise-canceling headsets allow them to better concentrate on the road.
Tips for choosing the best headset for truckers
Choosing the right headset is very important as you'll be wearing them for hours on end. Therefore, it's a no-brainer to buy ones you find comforting and meet your requirements. Here are factors truckers consider when choosing headsets:
1. Usability – Any headsets you choose must have a dedicated button for voice control, receiving and ending calls, and more (if possible). The goal is to reduce phone usage. So if you have to pick up your phone every once in a while to place calls, the headsets are not adequate.
2. Comfort – Are your headsets comfortable? Do they hurt when you wear them for a prolonged time? Are they not fitting well? Is the speaker or headband loose? Remember that you will be wearing these for at least 6-8 hours per day. You will regret your choice even if the headset is the slightest bit off in terms of comfort or fittings. Always pick one that fits you perfectly.
3. Noise-canceling mic– A good headset must have additional mics for active noise cancellation. Since you will be driving most of the time, the person on the other end may be disturbed by the constant rumble of the truck. Even noise from the traffic can make it difficult for them to hear you. So, make sure to pick headsets that are capable of drowning out the ambient noise from your end.
4. Durability – Although you are sitting still and driving there is little risk of physical damage. However, the headsets will be used round the clock, which can exert pressure on the battery. Bad quality headsets can break if they are used constantly without any rest. Although your headsets will eventually give in, the longer they last the better.
5. Battery life – What good is a Bluetooth headset if you have to keep charging after one or two calls? Although you can charge headsets in your truck, it is not convenient to do it constantly. Make it a priority to choose headsets that can last for at least 10-12 hours on a single charge.
Check out this article on how long the battery life is on Bluetooth headphones.
6. Voice clarity – Since drivers are always on the move, it may get difficult to hear the person on the other end thanks to various road noises. Therefore, the headset should be clearly audible on both ends.
7. Additional features – Headsets for truckers often offer extra features that benefit them exclusively, such as longer battery life and voice clarity. Other features include the ability to connect to multiple devices at once, lightweight, freely adjustable mic, a dedicated volume rocker, custom keys for receiving and ending calls, and much more. 
Recommended headsets for truck drivers
Here is a list of recommended headsets that will come in handy during your journey:
6. Plantronics Voyager Legend UC
7. BlueParrott B450-XT Noise Cancelling
10. Sennheiser SD Pro ML (506010)
Parting thoughts
Although there are various safety standards in place to aid truck drivers in their job, a good headset goes a long way in simplifying their lives and comforting them and on long lonely journeys. I hope you find this information useful and wish you good luck in picking out the perfect headsets for yourself. Happy journey!